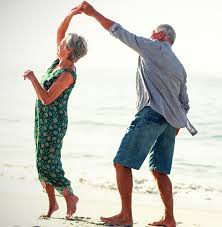 By Matthew Thuja – PA-S, Physician Assistant, Ovid Community Health, part of Finger Lakes Community Health, an independent healthcare entity.
Life expectancy of an American born today averages 78.2 years. But this year, over 70,000 Americans have reached their 100th birthday. It's no wonder the conversation has changed to healthy aging. This article focuses on that topic – no matter how old you are today, there are always steps to take towards living a healthier life.
Live a healthy, active lifestyle
Yes, it's as simple as that. Instead of watching TV or playing video games for long periods of time, get up, get out. Especially with the beautiful weather but even when it's cold and snowing, it's important to stay active. Choose the activity that's right for you. Can you bike? If not, walk around the block. If you can't walk around the block, walk around your apartment building or home. Can't do that, stand up and raise your hands up and down. Find the exercise that works for you. And if you can do it with a friend or loved one, that's even better because….
Being socially active adds to a healthy life
According to an article published in the American Society on Aging, social relationships have as much impact on physical health as blood pressure, smoking, physical activity, and obesity (as demonstrated in 1988 by House, Landis, and Umberson).
What does that mean for you? Engage with your friends and family or make new ones! Form or join a book club. Go to the religious organization of your choice. Having a fun social life and doing activities that you enjoy will help you age gracefully.

Medical Tips for living longer
It's important for you to know the medical screenings to prevent illness, allowing you to live well into your 90's. First, see your provider regularly and second, get these screenings. "Screening" means looking for a disease before it causes symptoms.
Mammograms
Women need to be sure to get mammograms as often as prescribed. There is strong evidence to recommend screening mammograms every two years for women aged 50-74. Please talk to your provider about whether mammograms in your 40s are appropriate as the recommendation for this age group is weaker. This is mainly because of the risk of a false positive – seeing something on a mammogram that requires biopsy and turns out not to be cancer. This is higher in women in their 40's. And there are many convenient locations to get a mammogram done include the mobile mammogram unit that is in our community.

Cervical Cancer
Screening for cervical cancer is recommended for women between ages 21- 65 years. It is now understood that the Human Papilloma Virus (HPV) plays a role in the development of cervical cancer. However, almost 100% of adults will contract a strain of HPV at some point, most will not develop cancer. We now can perform HPV co-testing along with a Pap smear. This is recommended for women age 30 and up. If both the Pap smear and HPV tests are normal, women may need screening less frequently than in the past, up to 5 years in some cases.
Keep in mind, that smoking decreases the body's ability to clear this infection and increases the risk of cervical cancer. Quitting smoking is a great way to prevent several kinds of cancer, heart disease, and other issues!

Colon Cancer
Colon cancer is the second leading cause of cancer deaths in the U.S. after lung cancer. It is recommended screening begins at age 50. Screening with colonoscopy is an excellent test, but some people find the process objectionable. There are now several other options for colon cancer screening. Other than colonoscopy, the screening test our patients choose most is a noninvasive FIT test. Fecal occult blood test (FOBT) and fecal immunochemical test (FIT) are options for colon cancer screening in low risk patients. The test is noninvasive, a stool sample is collected and sent to the lab. If the test is negative, it is repeated in 1 year.
Colonoscopy is still one of the best screening tests, it has high diagnostic accuracy and precancerous polyps can be removed at the time of the test. During the test, a flexible tube with a small camera on the end is used to look at the entire length of the colon and rectum. If polyps are found, they may be removed during the test. To prepare for the test, you will need to clean out your colon with laxatives (called a bowel prep). Most people are sedated during the test. While colonoscopy is a more involved testing process, if the results are normal, screening is needed only once every 10 years.
For more information, call us at (315) 781-8448.
SaveSave