Meet Rebecca Martin, FNP-BC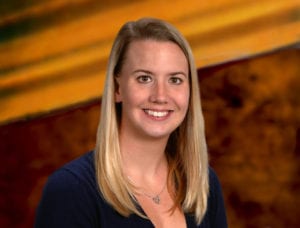 Rebecca Martin, FNP-BC, Ovid Community Health and Penn Yan School-Based Health Center
When Rebecca was asked to take the lead medical role in Ovid and the Penn Yan School-Based Health Center, she immediately said yes. "I grew up in rural Maryland, a town very similar to both areas. And now I'm treating families that I can relate to. As a Family Nurse Practitioner, this is exactly where I want to be. My patients have similar values and interests as I do."
Rebecca Martin chose to become a medical professional for one simple reason: she has a passion for helping people. During high school and college, she worked in primary care as a certified nursing assistant. Once she got her nursing degree, she spent four years as an RN in the Emergency Department where Rebecca noticed the critical need for primary care for patients, which pushed her towards working at Finger Lakes Community Health. As a Family Nurse Practitioner, she wishes to help identify problems for her patients and make essential changes to keep them out of the Emergency Department and in the hands of their primary care providers.
Treating the whole patient is central in Rebecca's approach to patient care. She believes that there is so much more to treating patients than just the illness itself. Because of this, she enjoys educating her patients on their illnesses and problem solving to make sure they are getting the care that they deserve.
After spending years in a fast-paced emergency room environment, Rebecca has chosen to settle down and loves spending time with her growing family. She, her husband, her young son and daughter, and her lab all enjoy camping and the outdoors.