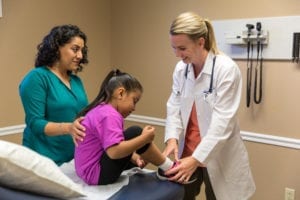 At Geneva Community Health we now offer Walk-in Hours from 1 – 3 pm, Monday to Friday, for our patients only. No appointment is needed — patients will be taken in the order that they arrive beginning at 12:45. The front desk staff will add you to the schedule on a first come, first serve basis. They will stop scheduling patients at 2:45. Please arrive before then.
Which medical provider will I see during Walk-in Hours?
One of our medical providers, either Dr. Raquel Reyes, Rebecca Martin, FNP, or Janine Brink, FNP-BC, will be available to treat patients each day. They, along with our medical team including a nurse, medical assistant, navigator, and interpreter, will be there to assist.
What types of medical conditions will be treated during Walk-in Hours? Any serious need that can be treated during a shortened appointment such as:
·         sore throats
·         Flu-like symptoms — nausea, vomiting, diarrhea
·         cough/congestion
·         fevers
·         ear or sinus pain
·         allergies
·         pediatric illnesses – such as fevers and ear infections
·         urinary symptoms
·         birth control methods and education will be provided but no procedures such as an IUD or Nexplanon.
·         insect bites
·         STD testing
·         rashes or hives
What medical conditions will we be unable to treat during Walk-in Hours?
We have designated Walk-in Hours for patients who have an serious need that can be treated during a shortened appointment. If you've missed a regularly scheduled appointment, need a physical or care for an ongoing medical condition, we will be unable to see you during Walk-in Hours. We'll be happy to schedule an appointment for you.
Any questions? Call us at (315) 781-8448.